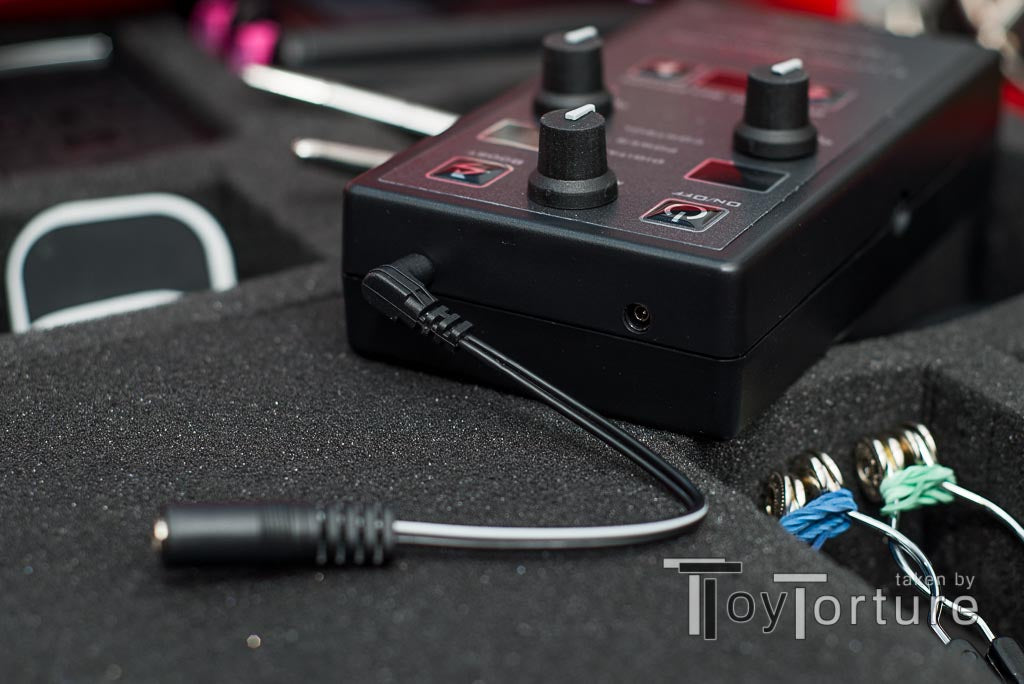 Product Spotlight- ElectraStim SensaVox EM140 Stimulator
The ElectraStim SensaVox EM140 is a high-power, high-spec digital stimulator developed specifically for the electro play connoisseur. If you demand the very best in electro-sex technology and want to experiment with a wide range of control settings and stimulation styles, this dual-channel stimulation unit is the ideal investment for you.
A range of unique features sets SensaVox apart from other erotic electrostimulation kits, bringing you all-new ways to enjoy the pleasures of estim with control settings that are 5 times more customisable than most traditional devices.
9 pre-programmed stimulation patterns give you a variety of smooth, pulsating and wavering stimulation modes to explore. Choose between 99 intensity levels, selecting different power levels for each channel independently for the most tailored experience. For those who want a little more customisation, the modify control allows you to alter the pre-programmed stimulation patterns for a broader range of sensations.
The dual channels can each power 2 uni-polar or 1 bi-polar sex toy at once, allowing you to use up to 4 uni-polar or 2 bi-polar electrodes at the same time. The ideal unit for experimenting with multi-area stimulation, both solo players and couples will enjoy exploring the wide range of combinations possible with this stimulator. Share a single channel, share both channels, use a single channel each, use just one channel or hog both channels for your own pleasure.
A cheeky boost button allows you to create temporary power surges during play, boosting power by 25% in a brief blast. Hit it at the moment of climax to intensify contractions and the impact of your orgasmic moment or use it to shock your sub when they're disobidient.
Use the included microphone and SensaVox becomes a voice-controlled sex machine that stimulates in time with any vocal sounds. Command your partner to orgasm with salacious words or use a firmer tone and higher intensity settings for punishing S&M play.
If you prefer to move with a rhythm, SensaVox also includes an audio cable that plugs into your amplifier, laptop, speakers or other 3.5mm jack input to translate music into sensation. Choose a slow and sensual track for rhythmic lovemaking or opt for something more erratic and spontaneous for a teasing sensory awakening.
Ideal for the worldwide traveller, SensaVox comes with a universal plug adaptor that allows it to be used directly from the mains anywhere in the world. You can also use the unit with a single 9V battery for more mobile play if you prefer.
Our high quality interface overlay has embossed control buttons which can be located simply by feel. It has frosted display windows to reduce glare and is constructed from durable reverse-printed polycarbonate that's securely held down with 3M adhesive. Made to the highest specifications, SensaVox comes with a 1-year warranty with the option to extend cover to 3-years by registering your purchase with us.
We haven't included any electrodes with SensaVox, so you'll need to buy at least 1 bi-polar or 2 uni-polar electrodes to play. We use a standard 2mm pin connection with all of our stimulators and sell a range of adaptors that allow you to use our units with your existing electrode collection.
Product Reviews
ElectraStim SensaVox Unboxing by Toy Torture

ElectraStim SensaVox EM140 Stimulator Overview by Toy Torture
ElectraStim SensaVox EM140 Stimulator Review by David Prittle & Naked at Our Age
Additional Reading:
Not All Electro Sex Is Created Equal- what to look for when buying electro sex products